20. Opera Watch
表
Waltham Opera Watch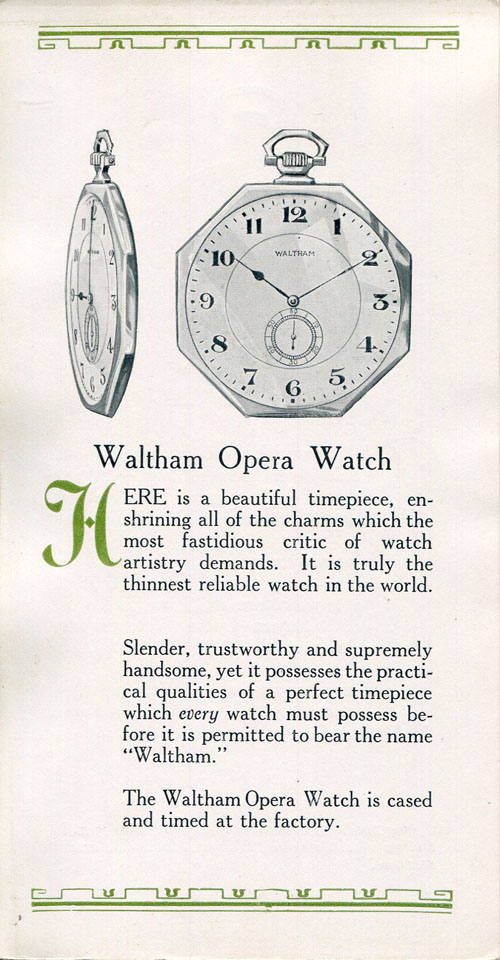 HERE is a beautiful timepiece, enshrining all of the charms which the most fastidious critic of watch artistry demands. It is truly the thinnest reliable watch in the world.
Slender, trustworthy and supremely handsome, yet it possesses the practical qualities of s perfect timepiece which every watch must possess before it is permitted to bear the name "Waltham".
The Waltham Opera Watch is cased and timed at factory.
裏
THIS exquisite masterpiece also available in special shapes --- either in gold (yellow, green, or white) or in gold-filled cases, plain or engraved.
The movement is the famous Waltham Ruby with 17 jewels, adjusted to temperature and two positions. All Waltham Opera Watchs are open face.
They are cased complete at the factory and delivered in an appropriate box of fine leather.
Ask your jeweler to explain more in detail those special features which have made Waltham "the world's watch over time".
PR
前頁 ・ 1 / 2 / 3 / 4 / 5 / 6 / 7 / 8 / 9 / 10 / 11 / 12 / 13 / 14 / 15 / 16 / 17 / 18 / 19 / 20 / 21 / 22 / ・ 次頁