11. No.1201 Boudoir Clock
表
WALTHAM
The World's Watch Over Time
Waltham Boudoir Clock No.1201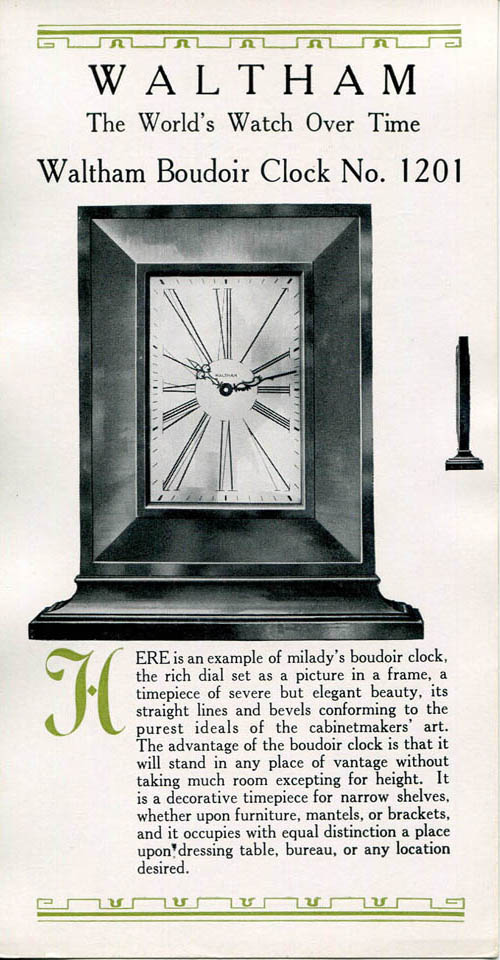 HERE is an example of milady's boudoir clock, the rich dial set as a picture in a frame, a timepiece of severe but elegant beauty, its straight lines and bevels conforming to the purest ideals of the cabinetmakers' art. The advantage of the boudoir clock is that it will stand in any place of vantage without taking much room excepting for height. It is a decorative timepiece for narrow shelves, whether upon furniture, mantels, or brackets, and it occupies with equal distinction a place upon dressing table, bureau, or any location desired.
裏
Waltham
Boudoir Clock No. 1201
10' high, 9" wide, 2 1/2" deep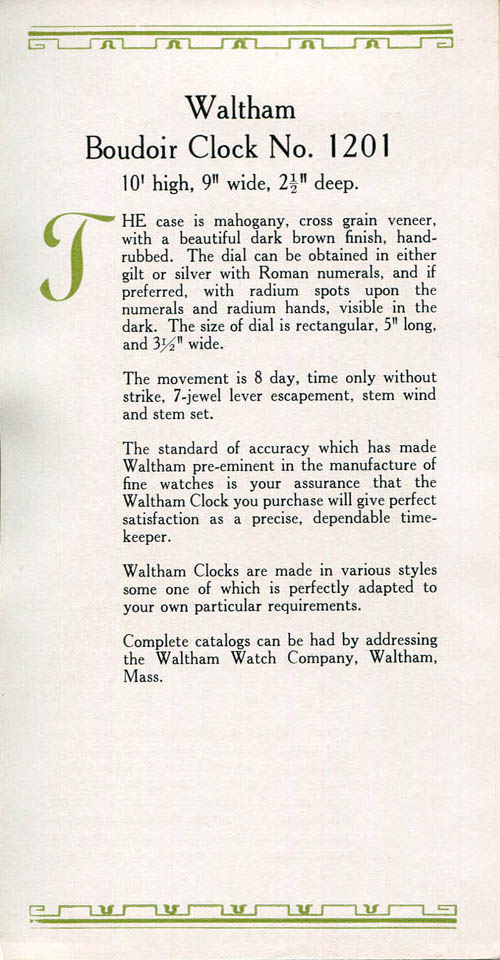 THE case is mahogany, cross grain veneer, with a beautiful dark brown finish, hand-rubbed. THe dial can be obtaind in either gilt or silver with Roman numerals, and if preferred, with radium spots upon the numerals and radium hands, visible in the dark. The size of dial is rectangular, 5" long, and 3 1/2" wide.
The movement is 8 day, time only without strike, 7-jewel lever escapement, stem wind and stem set.
The standard of accuracy, which has made Waltham pre-eminent in the manufacture of fine watches, is your assurance that the Waltham clock you purchace will give perfect satisfaction as a precise, dependable timekeeper.
Waltham clocks are made in various styles, some one of which is well adapted to your own individual requirement.
Complete catalogs can be had by addressing the Waltham Watch Company, Waltham, Mass.
PR
前頁 ・ 1 / 2 / 3 / 4 / 5 / 6 / 7 / 8 / 9 / 10 / 11 / 12 / 13 / 14 / 15 / 16 / 17 / 18 / 19 / 20 / 21 / 22 / ・ 次頁