12. No.1203
表
WALTHAM
The World's Watch Over Time
Waltham Clock No.1203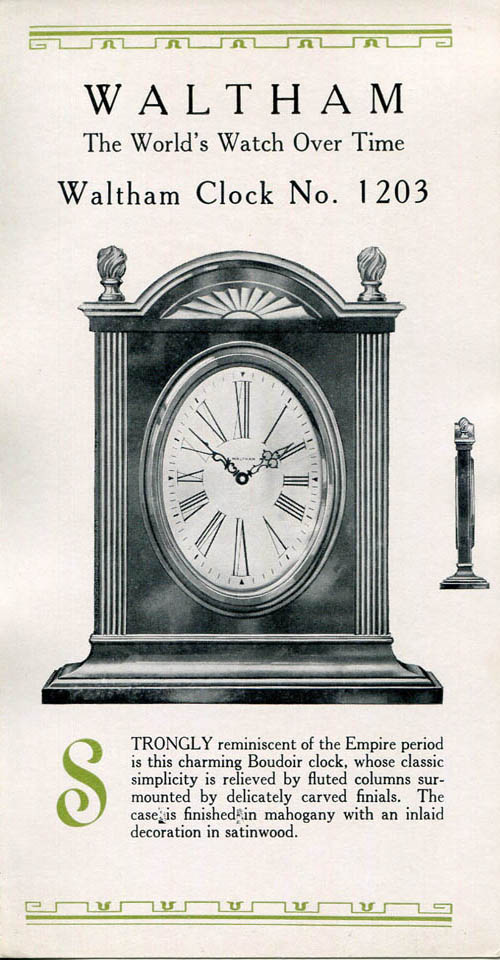 STRONGLY reminiscent of the Empire period is this charming Boudoir clock, whose classic simplicity is relieved by fluted columns surmounted by delicately carved finials. The case is finished in mahogany with an inlaid decoration in satinwood.
裏
Waltham Clock No. 1203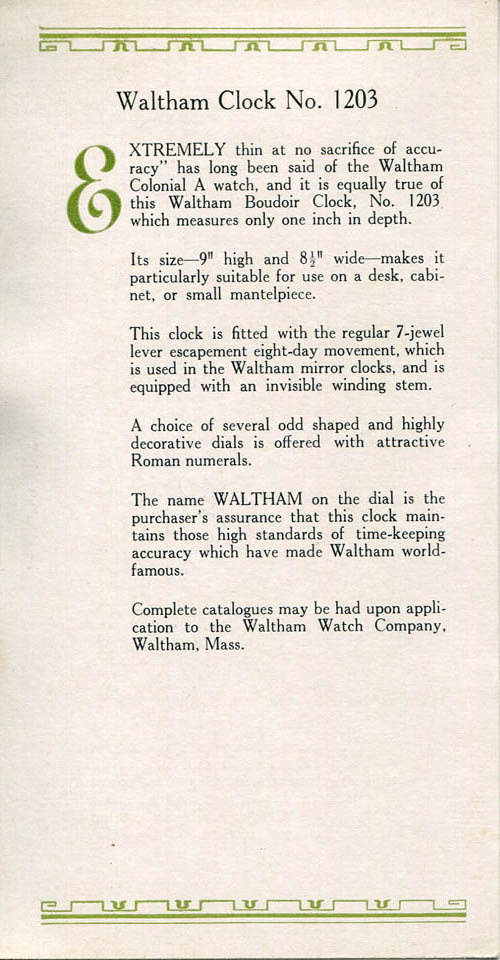 EXTREMELY thin at no sacrifice of accuracy'' has long been said of the Waltham Colonial A watch, and it is equally true of this Waltham Boudoir Clock, No. 1203 which measures only one inch in depth.
Its size ---9" high and 8 1/2" wide---makes it particularly suitable for use on a desk, cabinet, or small mantelpiece.
This clock is fitted with the regular 7-jewel lever escapement eight-day movement, which is used in the Waltham mirror clocks, and is equipped with an invisible winding stem.
A choice of several odd shaped and highly decorative dials is offered with attractive Roman numerals.
The name WALTHAM on the dial is the purchaser's assurance that this clock maintains those high standards of time-keeping accuracy which have made Waltham worldfamous.
Complete catalogs can be had by addressing the Waltham Watch Company, Waltham, Mass.
PR
前頁 ・ 1 / 2 / 3 / 4 / 5 / 6 / 7 / 8 / 9 / 10 / 11 / 12 / 13 / 14 / 15 / 16 / 17 / 18 / 19 / 20 / 21 / 22 / ・ 次頁