5. No.916 Old English clock
表
WALTHAM
The World's Watch Over Time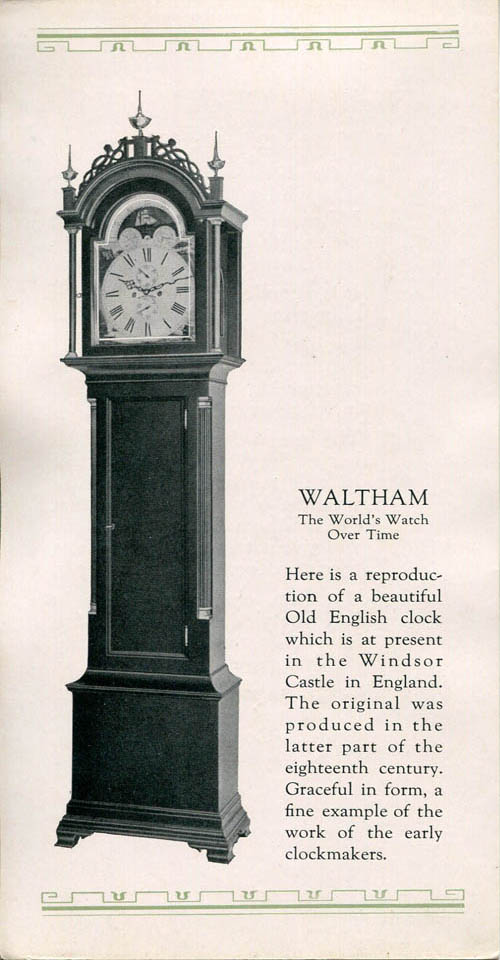 Here is a reproduction of a beautiful Old English clock which is at present in the Windsor Castle in England. The original was produced in the latter part of the eighteenth century. Graceful in form, a fine example of the work of the early clockmakers.
裏
Waltham Clock No.916
7' 8" high, 22" wide 15" deep
(See illustration other side)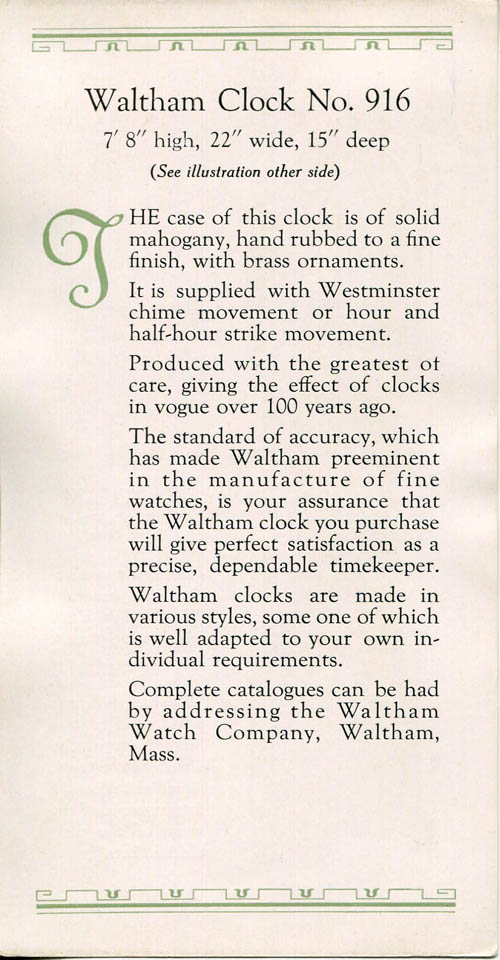 THE case of this clock is of solid mahogany, hand rubbed to a fine finish, with brass ornaments.
It is supplied with Westminster chime movement oe hour and half-hour strike movement.
Produced with the greatest of care, giving the effect of clocks in vogue over 100 years ago.
The standard of accuracy, which has made Waltham pre-eminent in the manufacture of fine watches, is your assurance that the Waltham clock you purchace will give perfect satisfaction as a precise, dependable timekeeper.
Waltham clocks are made in various styles, some one of which is well adapted to your own individual requirement.
Complete catalogues can be had by addressing the Waltham Watch Company, Waltham, Mass.
PR
前頁 ・ 1 / 2 / 3 / 4 / 5 / 6 / 7 / 8 / 9 / 10 / 11 / 12 / 13 / 14 / 15 / 16 / 17 / 18 / 19 / 20 / 21 / 22 / ・ 次頁