18. No.1330 Mirror Clock
表
WALTHAM
The World's Watch Over Time
Waltham Clock No.1330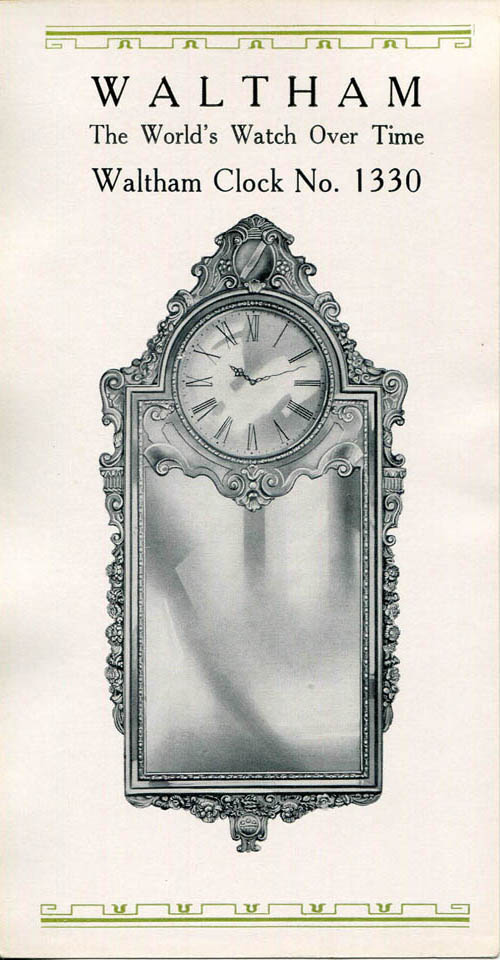 裏
Waltham Clock No.1330
3' 9 3/4" high, 22" wide, 5" deep.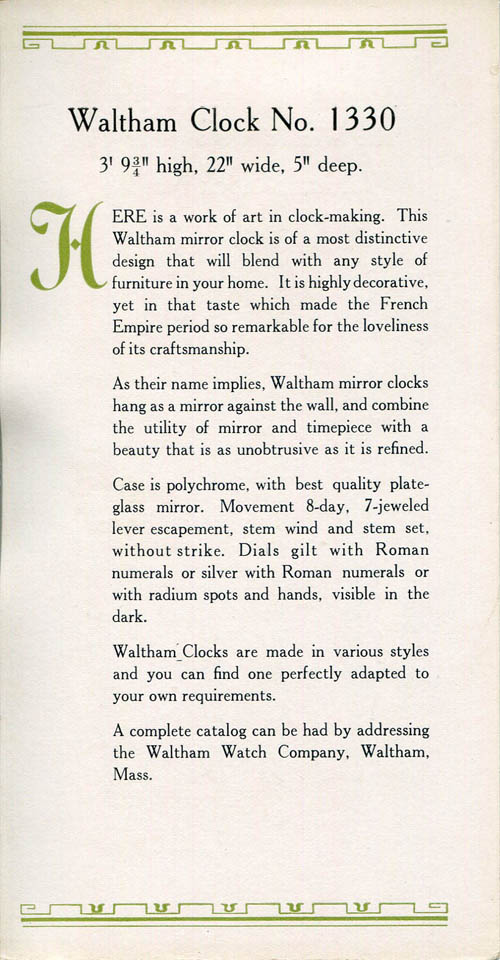 HERE is a work of art in clock-making. This Waltham mirror clock is of a most distinctive design that will blend with any style of furniture in your home. It is highly decorative, yet in that taste which made the French Empire period so remarkable for loveliness of its craftsmanship.
As their name implies, Waltham mirror clocks hang as a mirror against the wall, and combine the utility of mirror and timepiece with a beauty that is as it is refined.
Case is polychrome, with best quality plateglass mirror. Movement 8-Day, 7-jeweled lever escapement, stem wind and stem set, without strike. Dials gilt with Roman numerals or silver with Roman numerals or with radium spots and hands, visible in the dark.
Waltham Clocks are made in various styles and you can find one perfectly adapted to your own requirement.
A complete catalog can be had by addressing the Waltham Watch Company, Waltham, Mass.
PR
前頁 ・ 1 / 2 / 3 / 4 / 5 / 6 / 7 / 8 / 9 / 10 / 11 / 12 / 13 / 14 / 15 / 16 / 17 / 18 / 19 / 20 / 21 / 22 / ・ 次頁