7. No.985
表
WALTHAM
The World's Watch Over Time
Waltham Clock No.985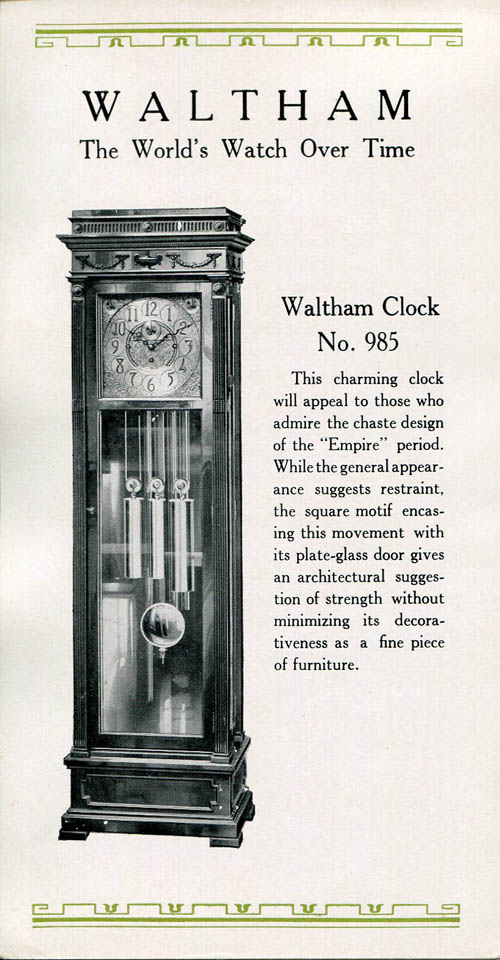 This charming clock will appeal to those who admire the chaste design of "Empire" period. While the general appearance suggests restraint, the square motif encasing this movement with its plate-glass door gives an architectural suggestion without minimizing its decorativeness as a fine piece of furniture.
裏
Waltham Clock No.985
6' 8" high, 23" wide 16" deep
(See illustration other side)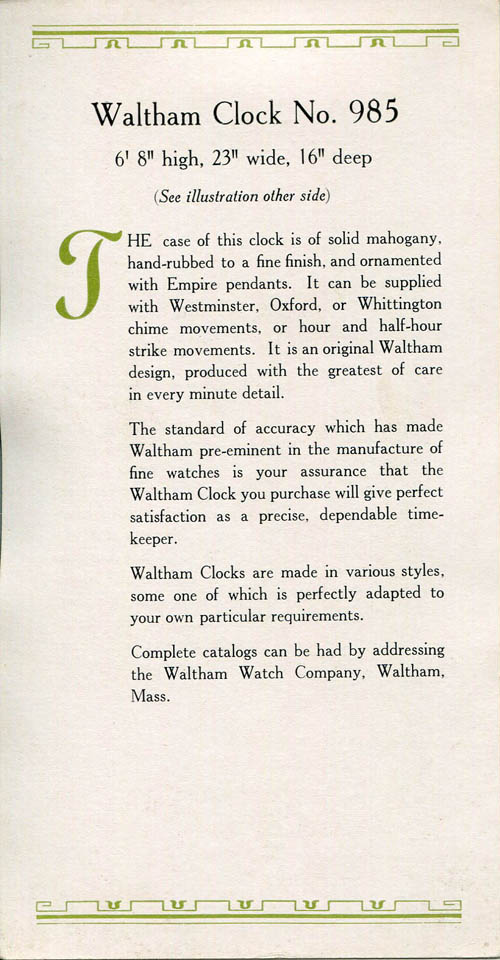 THE case of this clock is of solid mahogany, hand-rubbed to a fine finish, and ornamented with Empire pendants. It can be supplied with Westminster, Oxford, or Whittington chime movements, or hour and half-hour strikemovements. It is an original Waltham design, produced with the greatest of care in every minute detail.
The standard of accuracy which has made Waltham pre-eminent in the manufacture of fine watches is your assurance that the Waltham Clock you purchase will give perfect satisfaction as a precise, dependable time-keeper.
Waltham clocks are made in various styles, some one of which is well adapted to your own individual requirement.
Complete catalogs can be had by addressing the Waltham Watch Company, Waltham, Mass.
PR
前頁 ・ 1 / 2 / 3 / 4 / 5 / 6 / 7 / 8 / 9 / 10 / 11 / 12 / 13 / 14 / 15 / 16 / 17 / 18 / 19 / 20 / 21 / 22 / ・ 次頁