8. No.1192
表
WALTHAM
The World's Watch Over Time
Waltham Clock No.1192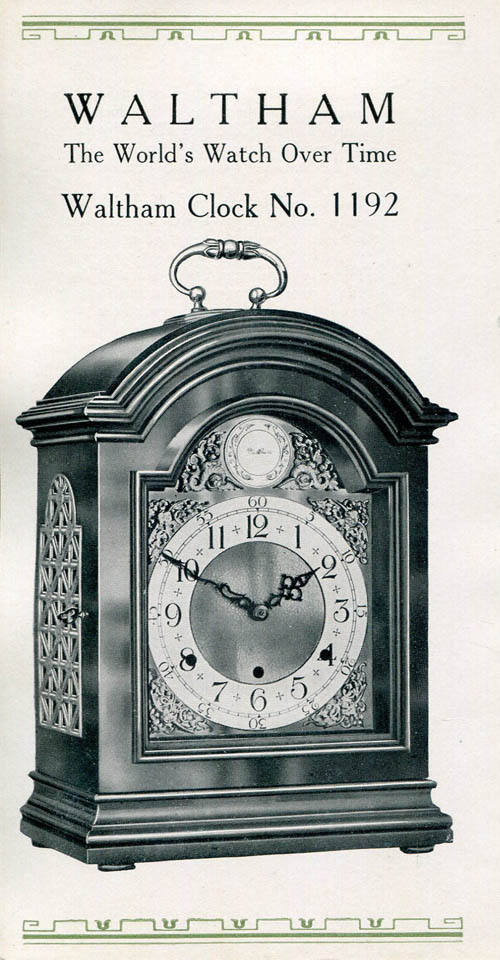 裏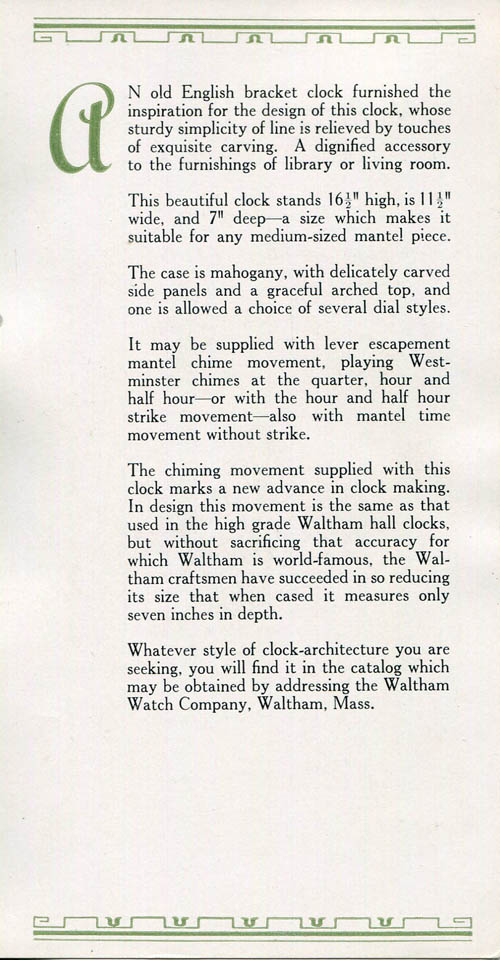 an old English bracket clock furnished the inspiration for the design of this clock, whose sturdy simplicity of line is relieved by touches of exquisite carving. A dignified accesory to the furnishings of library or living room.
This beautiful clock stands 16 1/2" high, is 11 1/2" wide, and 7" deep --- a size which makes it suitable for any medium-sized mantel piece.
The case is mahogany, with delicately carved side panels and a graceful arched top, and one is allowed a choice of several dial styles.
It may be supplied with lever escapement mantel chime movement, playing Westminster chimes at the quarter, hour and half hour --- or with the hour and half hour strike movement --- also with mantel time movement without strike.
The chiming movement supplied with this clock markes a new advance in clock making. In design this movement is the same as that used in the high grade Waltham hall clocks, but without sacrificing that accuracy for which Waltham is world-famous, the Waltham craftsmen have succeeded in so reducing its size that when cased it measures only seven inches in depth.
Whatever style of clock-architecture you are seeking, you will find it in the catalog which may be obtained by addressing the Waltham Watch Company, Waltham, Mass.
PR
前頁 ・ 1 / 2 / 3 / 4 / 5 / 6 / 7 / 8 / 9 / 10 / 11 / 12 / 13 / 14 / 15 / 16 / 17 / 18 / 19 / 20 / 21 / 22 / ・ 次頁