9. No.1194
表
WALTHAM
The World's Watch Over Time
Waltham Clock No.1194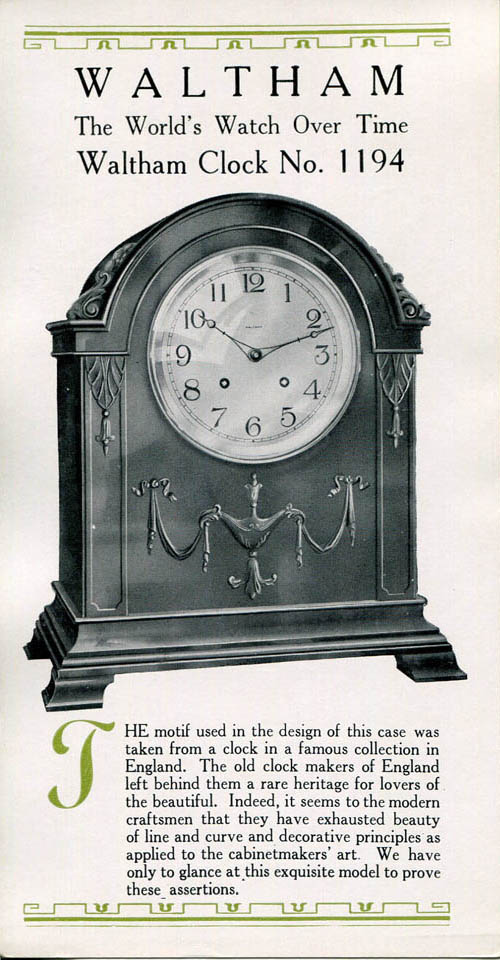 THE motif used in the design of this case was taken from a clock in a famous collection in England. The old clock makers of England left behind them a rare heritage for lovers of the beautiful. Indeed, it seems to the modern craftsmen that they have exhausted beauty of line and curve and decorative principles as applied to the cabinetmakers' art. We have only to glance at this exquisite model to prove these assertions.
裏
Weatherheld
Mantel Clock No. 1194
THIS Waltahm portrayal of an old master stands 13 3/4" high, 10 1/2" wide, and 7 1/2" deep, and is an artistic acquisition to the furnishings of any home. The case is of solid mahogany, hand-carved and hand-rubbed to a lovely dark brown finish. The dial is 5 1/2" in diameter and covers any of the following 8-day movements that you may prefer. No. 10 chimes on each quarter and strikes the hours and has 11-jewel lever escapement. No. 11 strikes the hours and half-hours, with the same escapement. No. 12 gives the time only without the strike and has a 7-jewel lever escapement.
The dials can be supplied in silver with etched or plain centers and Arabic or Roman numerals. Also, in enamel with Arabic or Roman numerals. Each of these dials can also be supplied with radium spots upon the numerals and radium hands, visible in the dark.
The quality of workmanship and skill in this clock sustains the world famed standard of the name Waltham. Whatever style of clock-architecture you are seeking, you will find it in the catalog which may be obtained by addressing the Waltham Watch Company, Waltham, Mass.
PR
前頁 ・ 1 / 2 / 3 / 4 / 5 / 6 / 7 / 8 / 9 / 10 / 11 / 12 / 13 / 14 / 15 / 16 / 17 / 18 / 19 / 20 / 21 / 22 / ・ 次頁