10. No.1198
表
WALTHAM
The World's Watch Over Time
Waltham Clock No.1198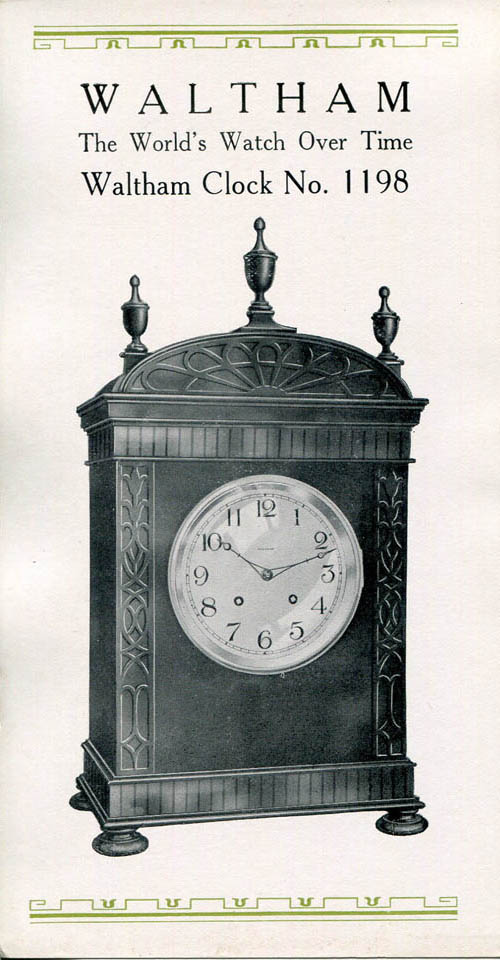 裏
Weatherheld
Mantel Clock No. 1198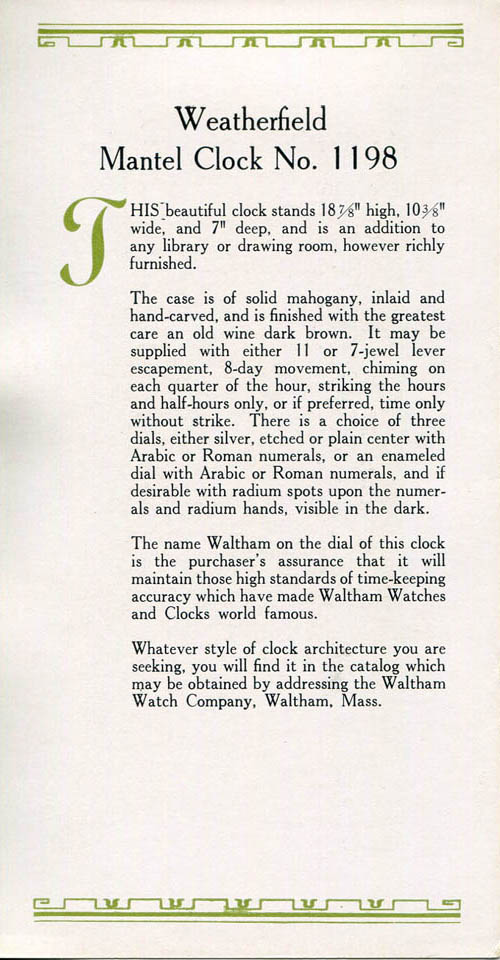 THIS beautiful clock stands 18 7/8" high, 10 3/8" wide, and 7" deep, and is an addition to any library or drawing room, however richly furnished.
The case is of solid mahogany, inlaid and hand-carved, and is finished with the greatest care an old wine dark brown. It may be supplied with either 11 or 7-jewel lever escapement, 8-day movement, chiming on each quarter of the hour, striking the hours and half-hours only, or if preferred, time only without strike. There is a choice of three dials, either silver, etched or plain center with Arabic or Roman numerals, or an enameled dial with Arabic or Roman numerals, and if desirable with radium spots upon the numerals and radium hands, visible in the dark.
The name Waltham on the dial of this clock is the purchaser's assurance that it will maintain those high standards of time-keeping accuracy which have made Waltham Watches and Clocks world famous.
Whatever style of clock-architecture you are seeking, you will find it in the catalog which may be obtained by addressing the Waltham Watch Company, Waltham, Mass.
PR
前頁 ・ 1 / 2 / 3 / 4 / 5 / 6 / 7 / 8 / 9 / 10 / 11 / 12 / 13 / 14 / 15 / 16 / 17 / 18 / 19 / 20 / 21 / 22 / ・ 次頁