13. No.1204
表
WALTHAM
The World's Watch Over Time
Boudoir Clock No.1204
HERE is a clock that in novelty and unity of design will appeal instantly to people who appreciate the unusual. It portrays a distinctly modern motif, yet is reminiscent of Colonial dignity. Like every Waltham clock, it is designed and finshed with great care. It is dainty, because while the Boundoir Clocks are large enough for the upstair mantelpiece, they can be placed to every advantage anywhere in the boudoir or sleeping chamber. As a piece of furnishing, this Waltham Boudoir Clock is distinctive.
裏
Waltham
Boudoir Clock No. 1204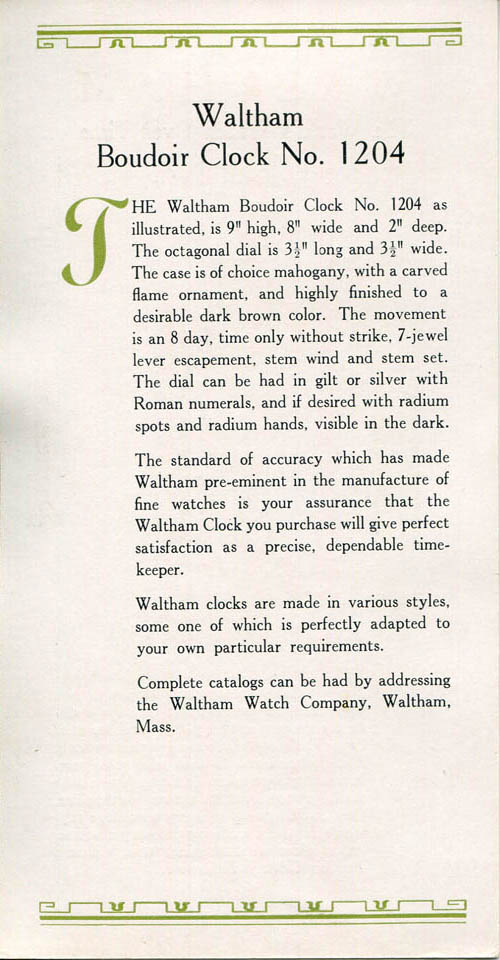 THE Waltham Boudoir Clock No. 1204 as illustrated, is 9" high, 8" wide and 2" deep. The octagonal dial is 3 1/2" long and 3 1/2" wide. The case is of choice mahogany, with a carved flame ornament, and highly finished to a desirable dark brown color. The movement is an 8 day, time only without strike, 7-jewel lever escapement, stem wind and stem set. The dial can be had in gilt or silver with Roman numerals, and if desired with radium spots and radium hands, visible in the dark.
The standard of accuracy, which has made Waltham pre-eminent in the manufacture of fine watches, is your assurance that the Waltham clock you purchace will give perfect satisfaction as a precise, dependable timekeeper.
Waltham clocks are made in various styles, some one of which is well adapted to your own individual requirement.
Complete catalogs can be had by addressing the Waltham Watch Company, Waltham, Mass.
PR
前頁 ・ 1 / 2 / 3 / 4 / 5 / 6 / 7 / 8 / 9 / 10 / 11 / 12 / 13 / 14 / 15 / 16 / 17 / 18 / 19 / 20 / 21 / 22 / ・ 次頁