19. No.1332 Mirror Clock
表
WALTHAM
The World's Watch Over Time
Waltham Clock No.1332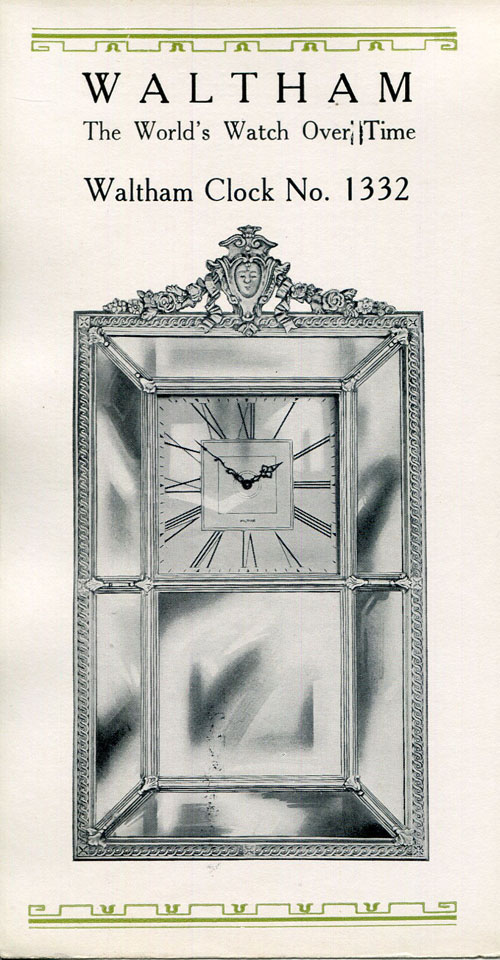 裏
Waltham Clock No.1332
2' 9" high, 18 1/2" wide, 3 1/2" deep.
(See illustration other side)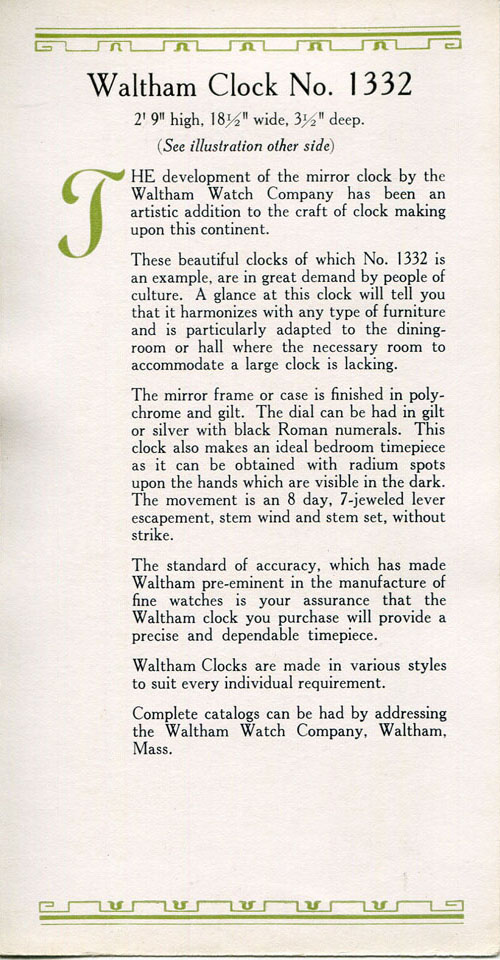 HERE development of the mirror clock by the Waltham Watch Company has been an artistic addition to the craft of clock making upon this continent.
These beautiful clocks of which No.1332 is an example, are in great demand by people of culture. A glance at this clock will tell you that it harmonizes with any type of furniture and is particularly adapted to the diningroom or hall where the necessary room to accommodate a large clock is lacking.
The mirror frame or case is finished in polychrome dnd gilt. The dial can be had in gilt or silver with black Roman numerals. This clock also makes an ideal bedroom timepiece as it can be obtaind with radium spots upon the hands which are visible in the dark. The Movement is an 8-Day, 7-jeweled lever escapement, stem wind and stem set, without strike.
The standard of accuracy, which has made Waltham pre-eminent in the manufacture of fine watches is your assurance that the Waltham Clock you purchase will provide a precise and dependable timepiece.
Complete catalogs can be had by addressing the Waltham Watch Company, Waltham, Mass.
PR
前頁 ・ 1 / 2 / 3 / 4 / 5 / 6 / 7 / 8 / 9 / 10 / 11 / 12 / 13 / 14 / 15 / 16 / 17 / 18 / 19 / 20 / 21 / 22 / ・ 次頁